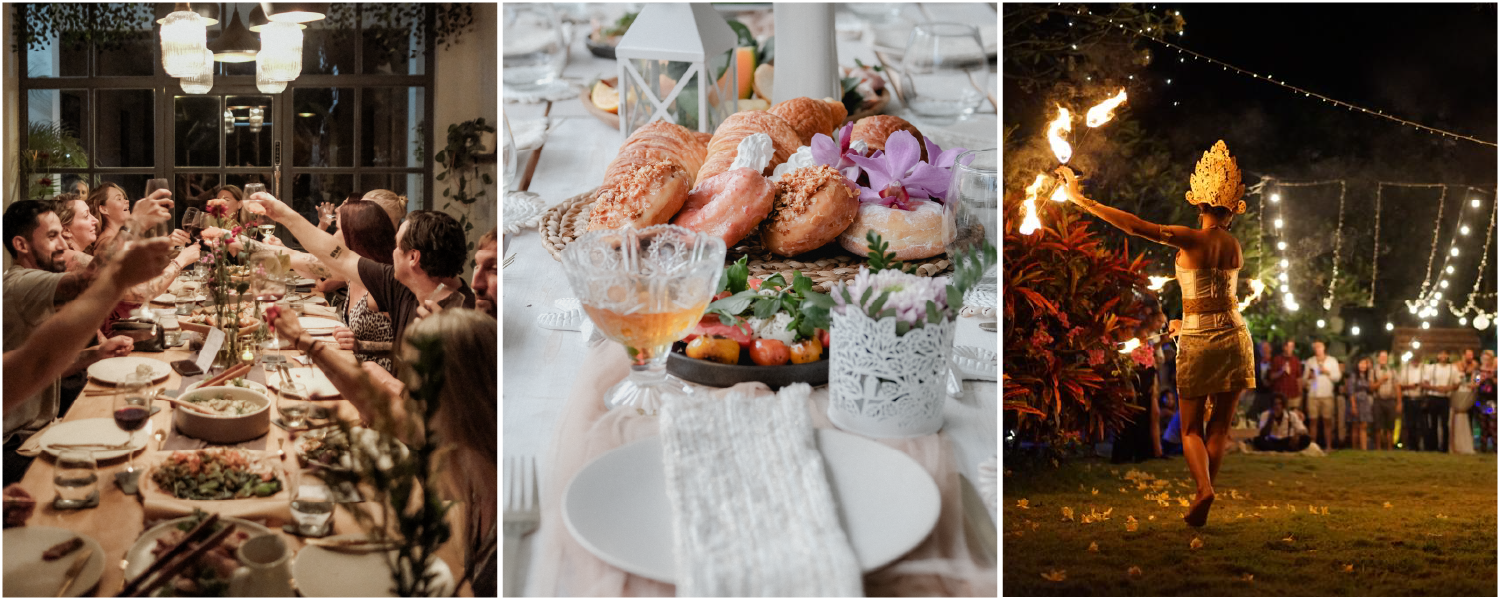 Frequently Asked Questions
How far in advance do I need to book my Bali catering or Bali grazing?
In general for Bali grazing tables, boards, boxes etc. we need your booking confirmed and paid in full 2-3 business days in advance. Generally for Bali event catering for smaller groups we need we need your booking confirmed and paid in full 7 business days in advance. For larger Bali weddings & events we need more notice to prepare and schedule. All dates are subject to availability at the time of booking
How can I enquire, check availability and book? 
Our absolute preferred method of communication is via email. Fill out our enquiry form on our Contact Page or email hello@mimpicateringbali.com
Our sales team will respond as soon as possible within business hours.
What are your opening hours?
Our sales team are generally available between 9AM-4PM Monday-Friday Bali time, however we may not always respond immediately if we are working at an event or in a meeting. 
Are they any extra costs? 
All of our menus are inclusive of all taxes and services. Tipping our crew is optional, but very much appreciated by our staff. Travel fees apply for certain outer areas of Bali, for example; Uluwatu, Ubud, Nusa Dua, Sanur, Jimbaran & more. There are no extra travel fees for events in Canggu, Seminyak, Kuta, Legian, Seseh. If an external kitchen set up is required there is a fee to hire this – location, pax and menu dependent. 
Why would you need an external kitchen?
While almost all Bali villas have kitchens, some villas do not allow catering companies to utilise them. It is your responsibility to check with the villa management and the external kitchen fee is at your cost. 
What is included and not included?
Our set menus and family style dining options include private chef, wait staff, plates, cutlery and napkins. Our canapes include private chef and wait staff serving canapes tray pass with paper napkins. Finger food and grazing includes the cooking/preparation of the food only and is served on a table provided at your villa/venue. Live stations include a chef and assistant preparing the food plus disposable eating and serving equipment. Tables, chairs, glasses, water/drinks, table cloths, place mats and coasters are NOT included, but most items can be hired for an extra fee. 
Do you cater for dietary requirements?
We can cater for most dietary requirements, but some may incur an extra fee or substitutes may be offered. We can customise menus/dishes to a certain degree for dietary requirements. Complete vegan, vegetarian, halal menus can be offered. 
Can we order a buffet?
We don't offer traditional buffets. We are committed to ensuring both incredible tastes and a great experience. We personally don't believe that queuing and food served in chaffing dishes achieves that experience. Our closest style of catering is our family style sharing; a range of mains and sides served on boards, plates, bowls down the middle of the table for guests to help themselves. This can also be served separately on a table provided at your villa/venue, similar to a buffet, however is designed to eat immediately when served as the dishes are not for keeping the food hot. 
Do you do food tastings?
Yes, we have a private dining room just outside of Canggu where we can host event and wedding food tastings for a fee. This is subject to availability and requires some notice. The tasting must be prepaid, however if the wedding/event is booked with us for a minimum guest amount, the tasting fee for the bride & groom will be deducted from the booking. 
Do you have a minimum/maximum spend or guest size?
We do not have a minimum amount of guests required to book a Bali food catering menu. We can cater for as little as 2 people, however the rates for small groups are quoted POA. Our maximum guest size for 2024 is approximately 80-100 guests, but please enquire for more information. 
Whatever your Bali event or holiday needs, we are here to turn your dream into reality. Contact us below to get started.